Appalachian Trail Adventure Tests Backpackers' Skills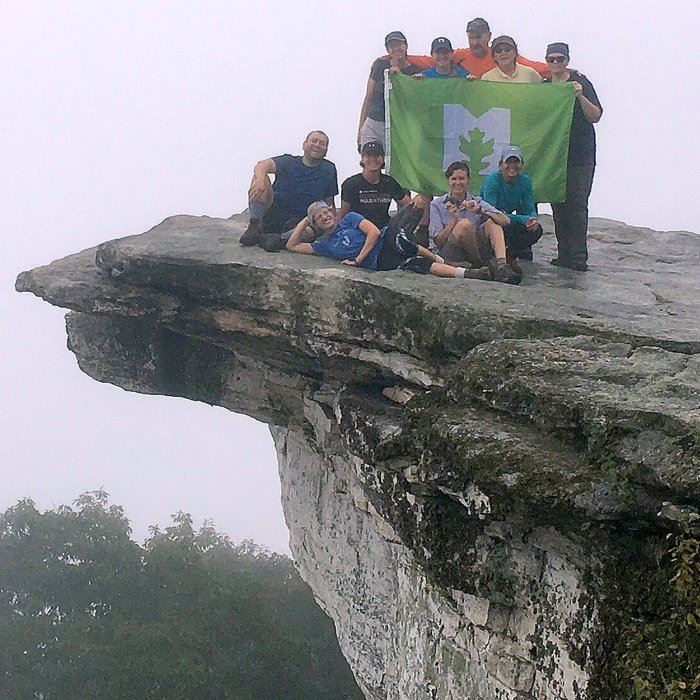 Eight "flatlanders" from the Toledo Area, accompanied by two experienced Outdoor Skills instructors from Metroparks, recently returned from an adventure on the Appalachian Trail.
Two upcoming programs will feature the storied trail. (See below)
"We had such a good crew – they really bonded well," said Kim Kassman, who along with Amanda Howard lead the group on a 12-mile trek in late September, starting at McAfee Knob in West Virginia, south of the  Shenandoah National Park. "It's an iconic trail – there's an aura about it – an allure that's hard to get over."
Two of the participants were Metroparks employees Sara McZahn and Alissa Caple.
On the first day, the group of eight women and two men experienced 1,600 feet of elevation change over three miles. The second day, they hiked six miles up and over Tinker Cliffs. And the third day, another three miles, scaling wet boulders and traversing tree roots and other trail conditions not found on the Metroparks trails back home.
The trip ended at Lamberts Meadows with a hike down the Andy Layne Trail to get to their pick up location.
The group "lived in rain gear the whole time," Kim said, overcaming issues with gear in the wet weather. They stayed in the lean-to shelters used by through-hikers (and met two of them along the way). They ended each day with an ongoing Euchre tournament, until one night when mice turned their deck of cards into a pile of shredded paper.
Kim said three of the participants came to a beginning backpacking overnight program last year, and others heard about it in different ways. Most then attended other Backpacking 101 programs on cooking, sleep systems, bear awareness and other skills they put to use on the journey. Their training also included on the steep slope of the sledding hill at Blue Creek – 20 times with full packs!
"People here in the flatlands can hike all day with a full pack, but put them in the higher elevations and it's really a challenge," said Kim, who has hiked 250 miles of the AT over the last several years, usually 20-30 miles per trip. She has hiked a piece of the trail in each of the 14 states it traverses to complete the Appalachian Trail Conservancy's 14-State Challenge 
Photo: The group on top of McAfee Knob
Backpacking 101
If you have ever wanted to try backpacking, but didn't know where to start, Backpacking 101 programs are a way to learn the basics with Metroparks outdoor skills staff and prepare yourself to hit the trail.
Wednesday, October 17 from 6 6 to 8 p.m.
Secor Room at Secor Metropark
In this special presentation, Appalachian Trail through-hiker Cheryl "Clinker" McCormick will share tales of the trail from her 2013 solo hike. Cheryl is a local hiking celebrity and will show photos, discuss her trials and triumphs, and answer audience questions about her 2,000-mile feat.
Wednesday, January 16
Watch for details
Participants in the 12-mile AT hike will share their experience in a panel discussion to kick off a new season of Backpacking 101 programs.